De ce sa nu incepem ziua de luni dansand si simtindu-ne bine? Ia sa va vad cum cantati!

"Sugar,
Oh, Honey Honey.
You are my candy girl,
and you got me wanting you.
Honey,
Oh, Sugar, Sugar.
You are my candy girl
and you got me wanting you."
Nu se poate sa nu stiti melodia "Sugar, Sugar" cantata de catre The Archies. Ce poate nu stiti este ca aceasta melodie apartine unui desen animat denumit "The Archie Show" realizat de studioul Filmation dupa seria de benzi desenate realizata de catre Bob Montana in 1941. Serialul este o poveste a unei trupe de cantareti formata din Archie Andrews, Reggie Mantle, Jughead Jones, Veronica Lodge si Betty Cooper care isi petrec timpul cantand. Fiecare dintre cele 17 episoade realizate dura 11 minute si se incheia cu melodia zilei.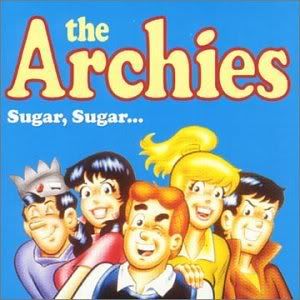 Cea mai cunoscuta melodie a lor este cea prezentata mai sus, "Sugar, Sugar", si a ajuns pana pe locul 1 in 1969. Vocile lui Ron Dante si Toni Wine au fost folosite pentru a lansa o multime de albume de singleuri care au avut un real succes (lista albume). Datorita acestui succes muzical personajele au fost folosite si in alte show-uri. Unele reluari si altele continand episoade noi:
– Archie and His New Pals (TV special; 1969)
– The Archie Comedy Hour (1969)
– Archie's Funhouse (1970)
– Archie's TV Funnies (1971)
– Everything's Archie (1973)
– The U.S. of Archie (1974)
– The New Archie and Sabrina Hour (1977)
Un foarte important aspect al acestui serial este introducerea, pentru prima oara intr-un serial de desene animate, a rasetelor publicului plasate dupa fiecare gluma. Pana la inceputul anilor '80 acest aspect a fost nelipsit din toate seriile de desene.
Creatori: John Goldwater (benzi desenate)
Bob Montana (desen)
Producator: Hal Sutherland
Regizor: Hal Sutherland
Voci: Dallas McKennon
Howard Morris
Jane Webb
John Erwin
Dansam oameni buni? \:D/