Nu puteam sa continui sa scriu articole fara sa aduc aminte despre unul dintre cele mai indragite personaje ale copilariei mele: Touche Turtle! Sigur stiti, si ati folosit ;)) in jocurile copilariei, celebra fraza "Touché and away!". Eu recunosc ca de multe ori alergam prin curte cu un bat in mana, strigand indemnul testoasei Touche. :)) Stiu, stiu. Amuzanta imagine.
Touche Turtle si Dum Dum este un desen animat care face parte din show-ul "The New Hanna-Barbera Cartoon Series" realizat de Hanna si Barbera in 1962. Alaturi de cei doi, in cadrul acestui show de jumatate de ora, mai erau si desenele animate cu Wally Gator si Lippy the Lion & Hardy Har Har despre care vom vorbi alta data. Show-ul a avut parte de 2 sezoane a cate 51 de episoade, terminandu-se in 1963.
Despre ce era vorba in acest desen animat al copilariei noastre? Despre o broscuta testoasa viteaza care se lupta cu tot felul de personaje malefice si salva printi, printese, regi si regine. Dum Dum era ajutorul lui, un catel mare, bland si…cam prostut.
Acum ia sa va vad…cine recunoaste ca striga "Touche and away" uitandu-se in oglinda, in perioada copilariei sale? ;;)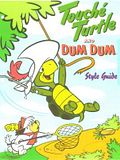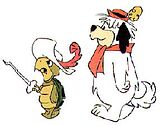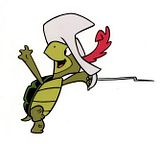 Image and video credit: Warner Bros.